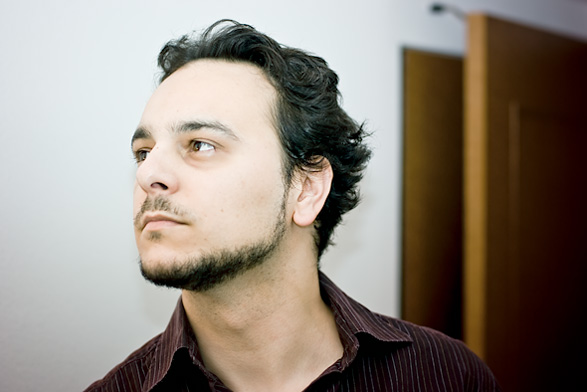 Hi, my name is Ruben and I'm an Italian graphic designer and flash developer living and working in Tokyo. 
I've always liked to take photos, but it was only when I bought my first -and only- SLR (a Nikon D80) last year and started experimenting with that big & heavy camera that I realized, well I was going to be sucked in that "new world". 
So, I opened a photoblog, ReallyJapan.com to share my shots. In few months I started receiving positive feedbacks on my  photos, consequently I started another blog to explain some techniques I was learning and post some Lightroom presets. 
It didn't work very well, lack of updates, boring photos and tutorials and a terrible layout.
Anyway, I thought, ok, I have to give it another shot.. let's make a new blog, this time let's work on it and spend some time to do something cool.. or at least let's try. And here it is, The Darkroom.
I hope you'll like it.
About my "shooting habits", I usually shoot at the end of a working day, coming back home, sometimes I'm tired or maybe stressed. And photography is a great thing to relieve the stress. 
You know, I like Japan, mainly because it's just two years I'm living here and there are a lot of hidden (or forgotten ?) places waiting to be discovered. Tokyo is huge, and its urban landscape is incredibly various, going from hi-tech glass & steel skyscrapers to really decadent old wooden houses covered by broken air conditioners.
I love to wander around, getting lost and exploring the narrow, dirty streets of Tokyo. For me photography is not just taking a good photo, it's more about the excitement I felt discovering a hidden view, a forgotten detail or an interesting moment on the streets.
My camera is a Nikon D80
My lenses (from the most to the least used):
Nikkor 18-200mm f/3.5-5.6 VR This is an incredible lens.. The quality of this lens is very good, it goes from 18 to 200 and well, it's VR.. and VR really works! Great purchase.
Sigma 30mm f/1.4 Although not so sharp as the 50mm Nikkor it's incredibly fast and very handy for street shots. Taking photos at 1/30 and f/1.4 (with no tripod) is incredible, you can capture the lights even in the darkest street. Great lens imo.
Nikkor 50mm f/1.4 – Ok I love, completely Love this one.. is so fast you can take photos almost anywhere, and incredibly sharp.. also is small, so extremely useful for street photography 
Nikkor 18-70mm f/3.5-4.5G – Pretty slow, and well, it's a lenskit.. I'd like to sell it!
Sigma 10-20mm f/4-5.6 – It's very funny to use, extremely wide.. however is not so easy to take great photos with this lens.. you have to be incredibly near your subject.. 
A SB-400 Speedlight Unit
Some other equipment:A cheap polarizer, a MacBook (the black one) and Lightroom. Sometimes photoshop to finish the photo before uploading.
Really Japan Photo Blog & The Darkroom is published by Ruben Frosali.
If you want to drop me a line: [email protected]