Steampunk Cyborgs in Hong Kong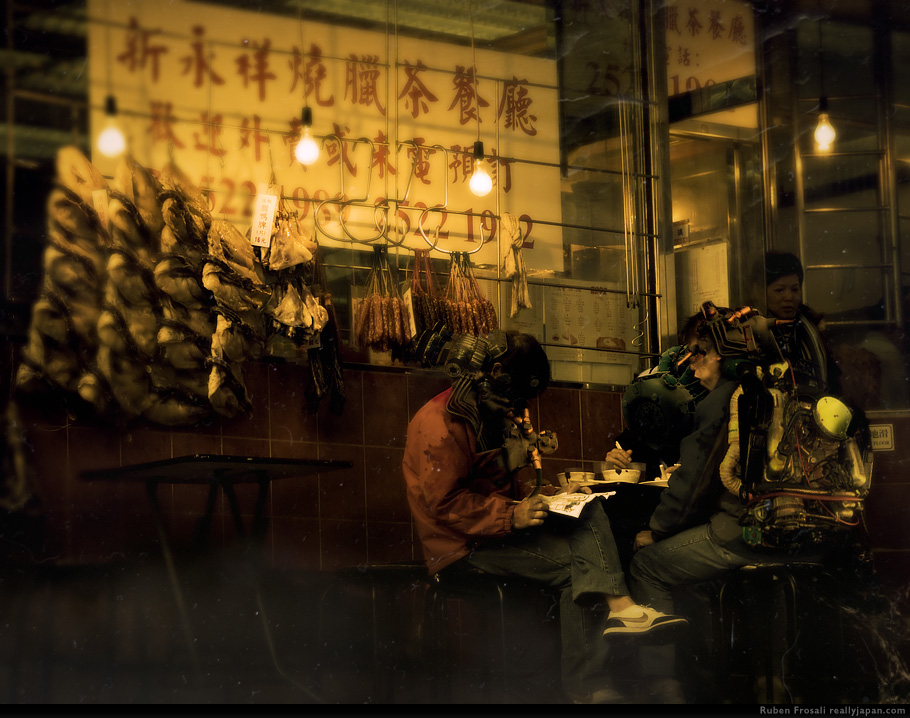 « previous
next »
Information
| | |
| --- | --- |
| focal length: | N/A |
| focal length: | N/A |
| aperture: | N/A |
| shutter: | 0 sec |
| iso: | N/A |
| Capture data: | N/A |
| Views: | |
Description
Posted in: Categories: [Hong Kong] [Shots from the future]
I know, I know, this is supposed to be ReallyJapan, not ReallyHongKong.. I've posted so many shots from Hong Kong.. I hope to shoot something new around Tokyo next week maybe.. In the meanwhile a new Shots-from-the-future pic!

This time we're in a parallel universe, you know, a different one from the other photos from this sci-fi series (more cyberpunkish).. This universe is the pseudo-Victorian mechanical "steampunk", and here, three steampunk cyborgs (steamborgs?!) are eating some dan dan noodles (I've decided, in any parallel universe dan dan noodles rocks) .. Anyway, the one in the middle looks a little like the Big Daddy of Bioshock..

Some other announcement.. Check the iPhone optimized Reallyjapan website, just point your mobile safari to reallyjapan.com, that's it, easy, and you can write comments too.

And.. have a nice day!