Defend Your Country, Join the Armored Cavalry VTM!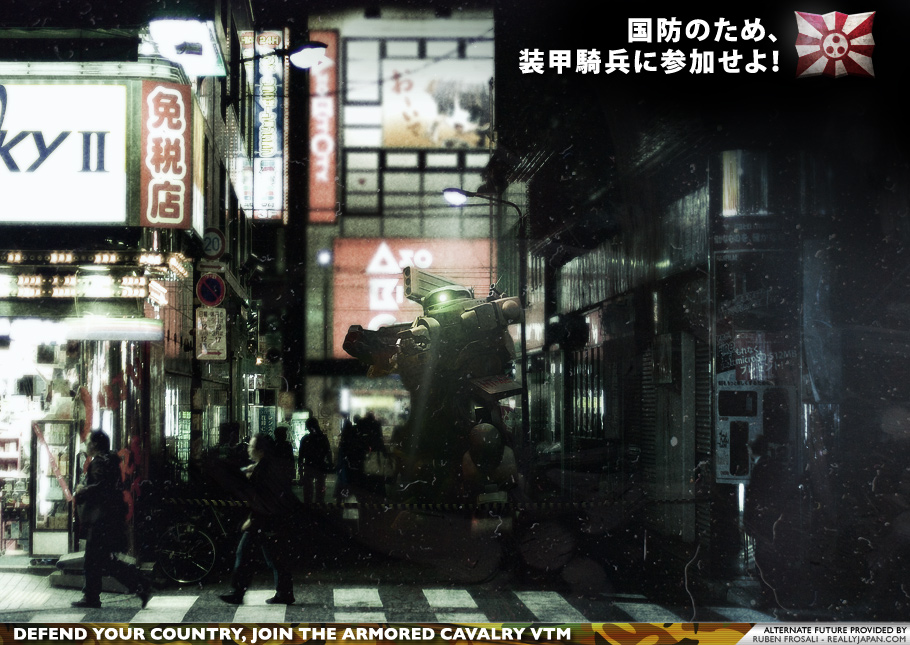 « previous
next »
Information
| | |
| --- | --- |
| focal length: | N/A |
| focal length: | N/A |
| aperture: | N/A |
| shutter: | 0 sec |
| iso: | N/A |
| Capture data: | N/A |
| Views: | |
Description
Posted in: Categories: [Akihabara - Tokyo] [Shots from the future]
We've received this Japanese propaganda poster from one of our readers yesterday and we decided to publish it today.
After the multiple terrorist attacks in New Hong Kong a few weeks ago, the Japanese government has launched a huge recruitment campaign with the slogan 'Defend your Country, join the Armored Cavalry VTM' aimed to increase the efficiency of the Mech division.

We still are not sure who's behind the terrible terrorist attacks in New Hong Kong. Some of the rumors we keep hearing on the streets of New Hong Kong point to one of the biggest Japanese industrial conglomerates.

As we said, these are just rumors, but what if there's something real behind these words?
Why is the Japanese government launching this huge recruitment campaign now? Is it to protect the country against possible terrorist attacks or to defend the interests of a Keiretsu having direct control over more than 15% of Japan's mining, chemical, metals industries and almost 30% control of the heavy machinery and military robot market?

We'll keep investigating this.